Fun and Skill-Building for All Levels and Abilities
"Teaching is a thrill: seeing students enjoy creativity and acquire skills they previously thought were impossible. Everyone is fully capable of being artistic. By teaching with openness and a sense of adventure, the magic of it all is for everyone to enjoy."
All classes are for all levels: first-time beginners and those with experience to improve skills, with individual attention to advance at your own pace.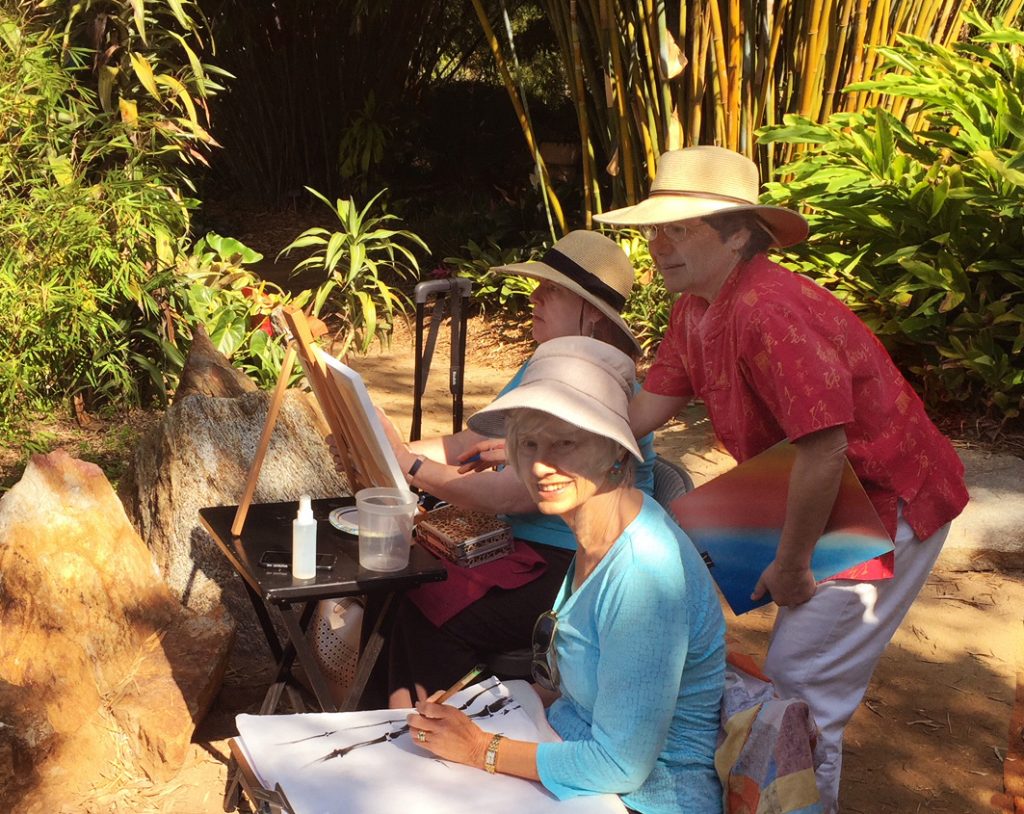 "Linda Luisi is delight to have as an instructor. Her lessons are clear, packed with insight, and directed toward what each student needs most. Kind and thoughtful, Luisi is an asset to the art world. I have learned much about composition, technique, creating a vibrant color palette, and have a better overall art aesthetic. Being in her class is a wonderful investment that I highly recommend." – Cherie Kephart, author of A Few Minor Adjustments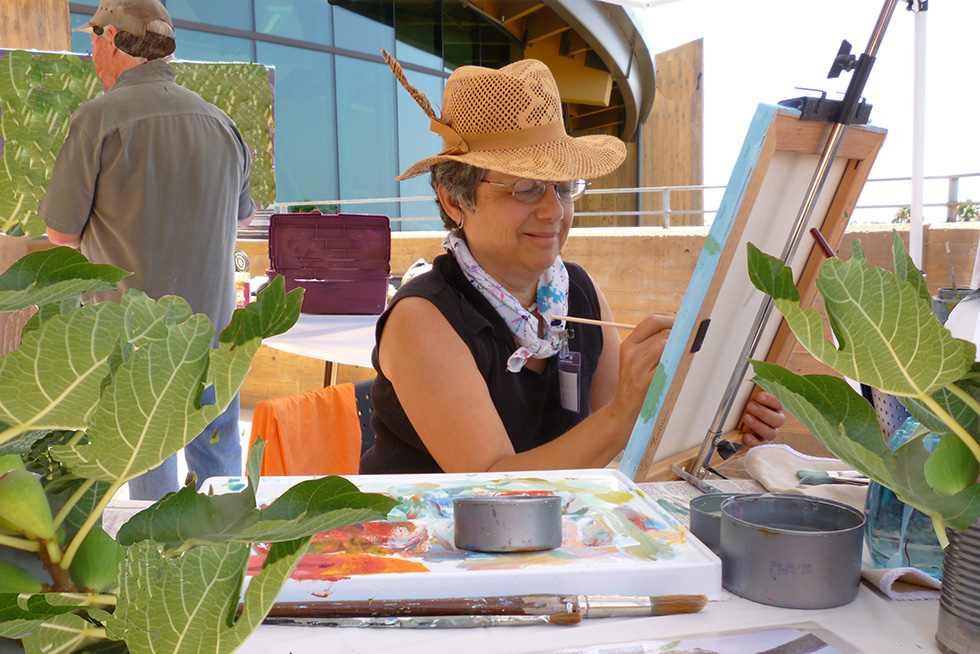 Costa Rica:
For nature tour with creativity/art workshops see Linda's Costa Rica web page.
Encinitas: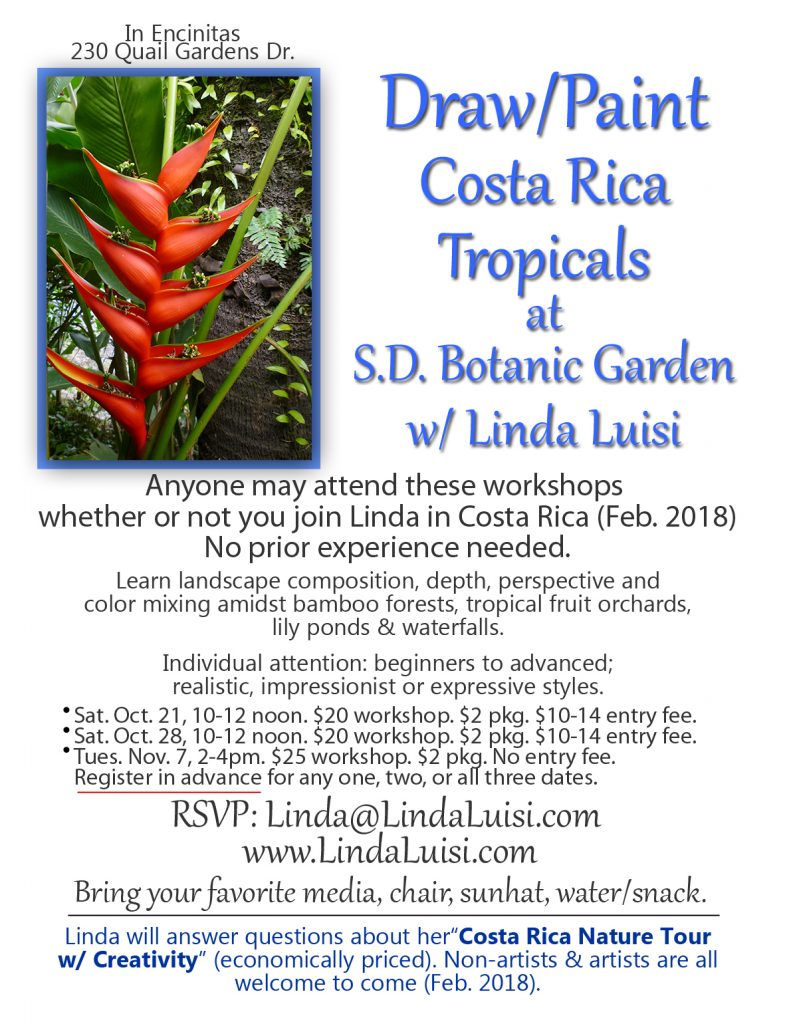 Linda's garden workshops (above) are very popular and will be continued on two Saturdays in December. Email her for dates.
Solana Beach:
Encinitas:
Olivenhain, Encinitas:
You are invited to join a semi-private art class:  For beginners & those with experience. A student from Linda's class at San Elijo Lagoon, has generously offered to host workshops on the patio of her beautifully landscaped home near Rancho Santa Fe Road & Lone Jack Road. Small class w/ individual attention: drawing, brushwork, color mixing, pastel on toned paper, perspective, collage, composition, how to create more aesthetic & polished art. Linda, known for depth & dimension, teaches realism/expressive/abstract. Step-by-step for beginners; advanced techniques for those w/ experience.
Bring any media: pencils, pastels, water pencils, paint, collage. Be inspired by the landscape, simply one Zen-like leaf, or bring a favorite subject matter–travel photos, pet photo, or Linda will provide a lesson for you. There are tables & chairs on an extensive patio (UV protected roof) & room for easels.
 9:00-11:00am Fridays: dates to be announced. Reserve your place. 4 dates $100. 3 dates $75. Drop in: $27. Register in advance by check (mail). Contact Linda if you can make only one date (in advance to assure your place).
Contact Linda to register for future Fridays at this residence class location above or if you would like to host a class at your home, a park, or other location.
Encinitas:
Drawing/Painting at lagoons and other locations. Contact Linda for more dates.

Draw/paint with any media with individual attention for beginners and those with experience will improve skills. Linda is expert in highlights, shading, depth, and much needed perspective. Learn to create subject matter that is dimensional, well-grounded and in proper proportion. Realistic, expressive, abstract. The lagoons are lovely, full of egrets, foliage, and waterways. Enjoy a relaxing and fun morning. Bring lunch if you wish to stay longer.

REGISTER IN ADVANCE: Must RSVP–class dates may change, so confirm with me and register in advance. What to bring? I will send an email to you with suggestions. RSVP asap.
Questions? Contact Linda.
Groups and Private Lessons (in person or online)

Creativity Workshops at your home or organization, for fun, for morale and bonding: for non-artists and artists.  All ages.
Slide Presentations and Workshops: for artists and non-artists to improve the understanding and enjoyment of art, and to learn how to create more aesthetic and professional art.
Draw/Paint Outdoors: En Plein Air at the botanic gardens, lagoons, Leo Carrillo Ranch, sunsets at the beach. Contact Linda to set up a group.
NEWS FLASH: Costa Rica Nature Tour with Mindfulness Creativity was amazing (January 2017). We will tour again in February 2018. For nature-lovers, non-artists, artists, family, friends. All are welcome. Expand your observation skills and be creative while on tour in Costa Rica. Enjoy jungle tours, then participate in mindfulness creativity sessions. Details about our trip are on the Costa Rica website page. Contact Linda to be on the email list to hear about future tours.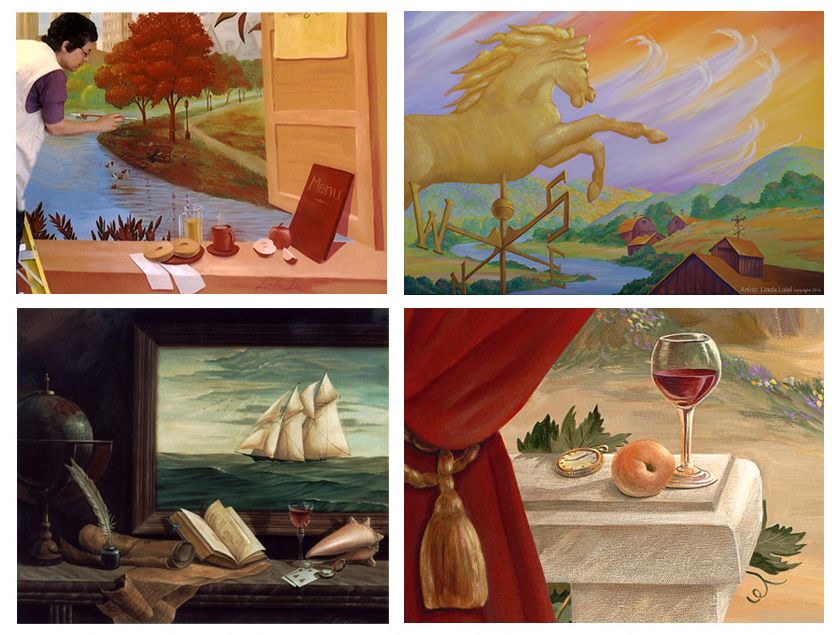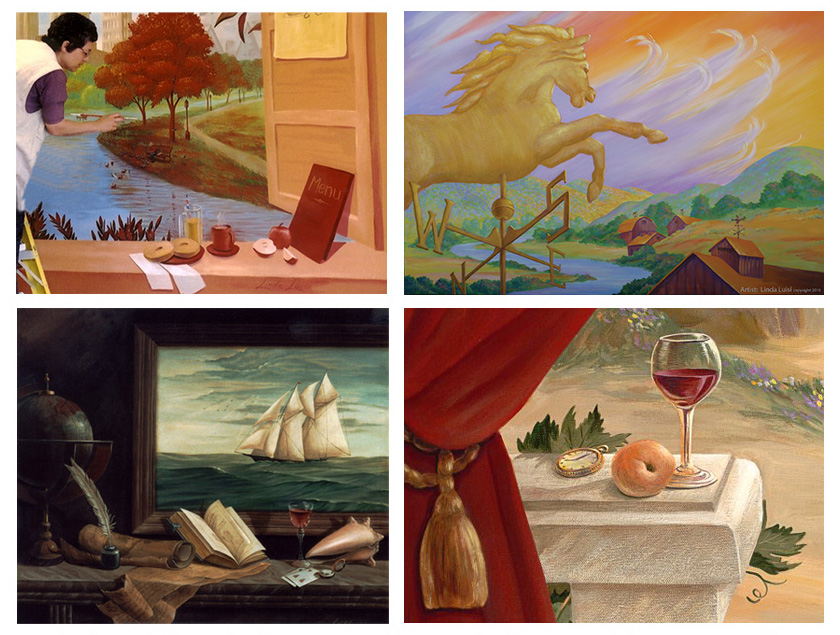 Workshops/Demos/Slide Presentations:
Art Appreciation
Basic Drawing and Painting
Portfolio Coaching
Mindfulness Creativity Sessions for Relaxation and Fun
How to Achieve Depth and Dimension (including Perspective)
How to Create Abstract, Impressionist and Expressive Art
En Plein Air: Painting and Travel Sketching
Mural Painting and Trompe L'Oeil
Techniques of New and Old Masters
Sketching Interiors and Landscape Designs
Subliminal Effects in Design and Fine Art
Color Mixing; Color Balance; Color Harmony
Composition: Painting/Collage/Any Media
Improvisational Creativity for Personal and Professional Growth
Teamwork and Communication through Art (Classroom/Workplace)
Illustration
Art for the Retention of Academics
Tessellations and Patterns in Nature
Woven Paper Art
Rock Painting (for fun)
To be included on my private email list for occasional updates of classes or demonstrations, send me your email address. You may opt out anytime.